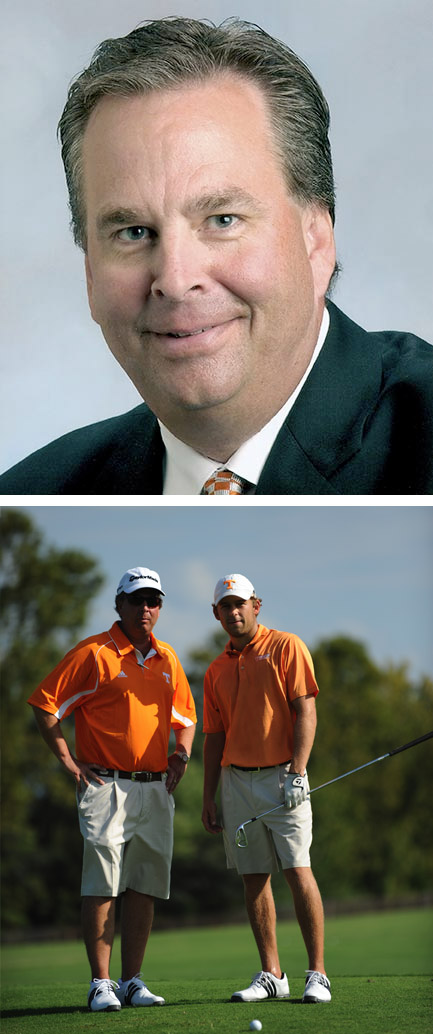 College Golf Consulting 101
Our organization's main objective is to provide invaluable college golf insights. As a former Division 1 Head Men's Golf Coach for 30 years, I am uniquely qualified to provide your family critical knowledge in the following 3 areas:
DIRECTION | CONFIDENCE | PUTTER PERFORMANCE EXPERTISE

The proper level of collegiate golf for your daughter/son
How to create exposure
Permissable liason between client and coaches
When and how to correspond with coaches

What environment is going to make you successful?
What is important when selecting a Program/University?
Learn the correct questions to ask coaches
Learn how to practice and prepare like an All-American

Course management
Controlling wedge distances
Mental game of golf
10 types of chip shots / short game principles
Positive self-talk and self-image formation
All phases will be covered during either a two day in-home visit or a one day visit at a world class facility located in Southwest Virginia.
Bottom line, College Golf Consulting 101 is here to help take the stress out of the recruiting process. We carry relatively few clients compared to our competitors as we want to offer you personalized service.
I would appreciate the opportunity to work with you.
CAREER HIGHLIGHTS
1983 Competed in NCAA Finals University of Oklahoma
1983 Captured Oklahoma State Amatuer Title
1987 Graduated University of Alabama
1989 Men's Assistant Golf Coach University of Florida
CAREER HIGHLIGHTS
1992 Earned Master's Degree in Sports Management University of Florida
1992 Head Men's Golf Coach Augusta State University
1993 Augusta State University Finishes 13th in NCAA Finals
Augusta State University NCAA Finals 1993, 1995, 1997. 1998
CAREER HIGHLIGHTS
1998 Head Men's Golf Coach University of Tennessee
University of Tennessee NCAA Finals 2003, 2005, 2007, 2009, 2010, 2011, 2013
David Skinns named to 2003 & 2005 Palmer Cup Team
Coached 2005 SEC Champion David Skinns
CAREER HIGHLIGHTS
2007 SEC Men's Golf Championship University of Tennessee
2007 SEC Coach of the Year
2008/2009 Charlie Ford, Chris Paisley & Robin Wingardh named to Palmer Cup Team
Coached 2013 NCAA Finals Individual Runner-up Rick Lamb
CAREER HIGHLIGHTS
Coached 2013 U.S. Amateur Runner-up Oliver Goss
2013 Chris Paisley & Garrick Porteous named to GBI Walker Cup Team
Coached 2014 Low Amateur at The Masters Oliver Goss
13 All-American Selections
CAREER HIGHLIGHTS
Teams Consistently Ranked Among the Top 25 in the Country
35 Team Titles
32 Individual Titles
18 Academic All-American Awards